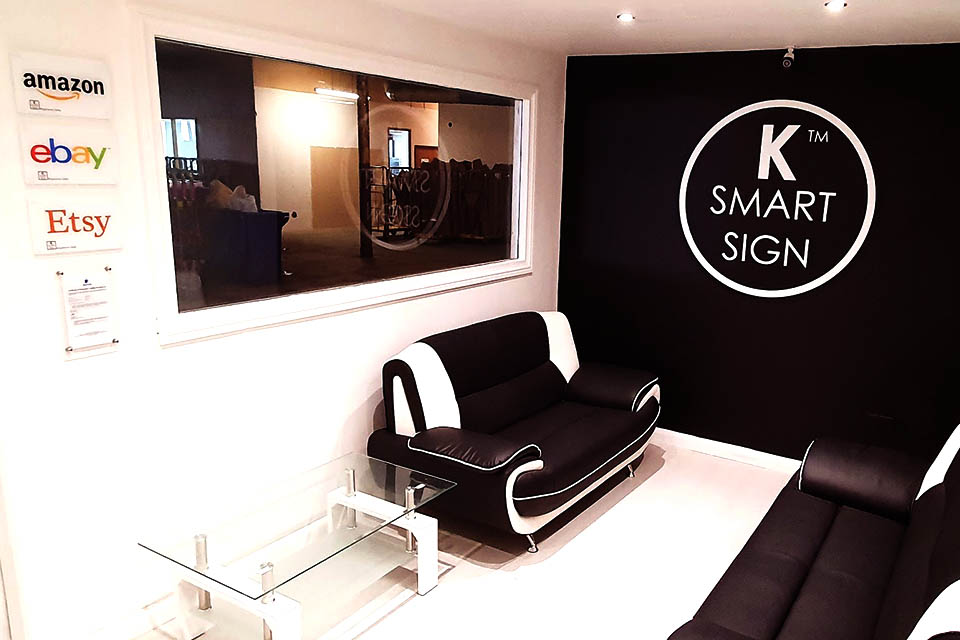 We've Been Nurturing Perfection For 12 years!
Established in 2010 after the Great Recession of 2007 to 2009 K Smart Sign Ltd was born! K Smart Sign was the brain child of Ben Kinsella who decided to throw the towel in on his aerospace engineering position with the global leader in aerospace technology in search to build a product and brand for himself that others would love. Not many can say at 23 years old it was a wise move, however, fast forward 12 years and K Smart Sign is the largest design, manufacturer and retailer of home signs in Europe with a staggering 2.3 million property signs sold to date while employing 30+ workers.
The bold statement of being the largest in Europe (lets also add in most recognised and trusted) comes about through years of perfecting the product through rigorous improvement and year upon year investment. The K Smart Sign facility now occupies 28,000 Sqft of unit space in Leigh, Lancashire UK. K Smart Sign only bring in raw materials which are then designed and manufactured into the stunning collections you see today.
Our Collections

We have dictated the market for home signs made of acrylic and aluminium for 12 years. 99.9% of all the products you see on homes today that are made of aluminium and acrylic will be a K Smart Sign product or a copy. K Smart Sign are constantly re-inventing the wheel when it comes to home signs and time after time create unique trends that home owners adore.

Customer referral is a huge part of our success and that's why we can be sure our products are very much loved and well received, simply because you tell your friends and family all about us!

Rigorous Staged Quality Approval

Through every stage of the manufacture process quality is inspected to make sure you receive exactly what you ordered, so, from design to manufacture, to assembly to a final quality inspection and packaging numerous workers have recorded the products journey, all of which can be called upon by you the customer! Simply click your order number and we can tell you at what time on what day who did what. For example our complex quality recording system aka "Roy" can tell you which K Smart Sign worker created your artwork, which worker printed it and which worker packed it and finally who gave it the all clear to be sent! That's what we call a Rigorous Quality Approved Product! It's also why we score a 99.9% positive feedback on every review system on the internet.

UK + International Relations

You can be sure wherever you are in the world that we can get a product to you in a timely manner. We use multiple high profile well known shipping companies to send our products all over the globe. Our international platform is growing year on year, so much so that for 2023 we are opening international hubs which will be run by people at K Smart Sign.
Guys, you rock! Made a purchase at your store recently. The order has been shipped and delivered on time. The quality is superb! The price is quite reasonable. Told all my friends about your excellent service and the variety of choice. I think I'll be your loyal customer in future as well. I wish your store many more years of prosperity. Robert Johnson
Having the distressing experience with some online shops before decided to say ''THANK YOU" to all personnel of this store. You are not only friendly, but deliver really good products in the shortest possible terms. In a word, I am absolutely happy with my purchase and the service. Everything was perfect! Jessica Priston
Guys, you rock! Made a purchase at your store recently. The order has been shipped and delivered on time. The quality is superb! The price is quite reasonable. Told all my friends about your excellent service and the variety of choice. I think I'll be your loyal customer in future as well. I wish your store many more years of prosperity. Sam Kromstain
Having the distressing experience with some online shops before decided to say ''THANK YOU" to all personnel of this store. You are not only friendly, but deliver really good products in the shortest possible terms. In a word, I am absolutely happy with my purchase and the service. Everything was perfect! Edna Barton